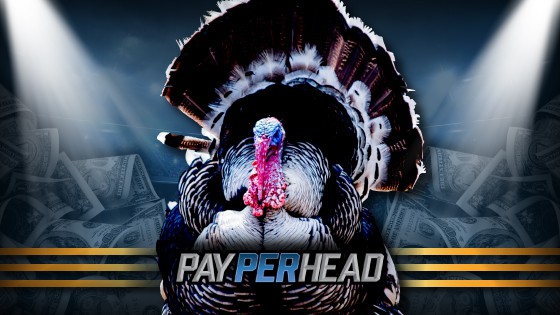 'Turkey Day' Sports Fans Make Profits Soar After Breaking Betting Records, Says PayPerHead.com
SAN JOSE, Costa Rica
 – 
Nov. 28, 2018
 – The Thanksgiving holidays is one of the busiest times for the United States. It's estimated that approximately 48.1 million Americans travelled over 50 miles this weekend to enjoy the holidays with family, breaking the previous year's record. However, 
Payperhead.com
 is also reporting that records were broken throughout the per head industry over the Thanksgiving weekend.
Known widely as "Turkey Day" across the country, millions of American sports fans flock to their screens to watch the holiday's NFL games. This year featured three games, involving some of the league's most vicious rivalries: Bears VS. Lions, Redskins VS. Cowboys, and Falcons VS. Saints.
"Each year, we anticipate large volumes of traffic during the Thanksgiving holidays," says PayPerHead.com Product Manager Nate Johnson. "With the rivalries this year, we experienced site traffic that beat records left and right."
It's reported that the 2018 Thanksgiving games had the strongest turnout seen, averaging 30.5 million viewers. Fox sports also predicts that the Redskins vs Dallas game will be "
the most watched NFL regular season telecast on any network for the 2018 football season
".
While the spike in site traffic and betting wagers can be attributed to the featured games, PayPerHead.com is also attributing a different variable that is revolutionizing the industry.
PayPerHead.com is reporting a rapid growth in their industry, specifically with college students. Currently, 67% of college students bet on sports with 75% of students having gambled during the past year.
"While we see a majority of college student placing large bets and creating sportsbooks, we are also experiencing a growing minority of entrepreneurs, stay at home moms and business professionals."
PayPerHead.com reports that the featured "Turkey Day Games" set the stage for further profits throughout the rest of this year and NFL season.
"If our current website traffic is any indication, we expect profits to continue to soar throughout the Christmas holiday and continue the trend in the New Year."
#####
About PayPerHead
PayPerHead 
(http://payperhead.com
), founded in 1997, is the industry's leading per head online bookie software, providing user-friendly tools and unmatched customer service. With PayPerHead.com, premium means premium: its agents reach unprecedented profits through its sportsbook software. To date, PayPerHead.com has provided service for over 13,000 users with professional and discrete data processing services around the globe. For more information visit 
http://www.payperhead.com
.