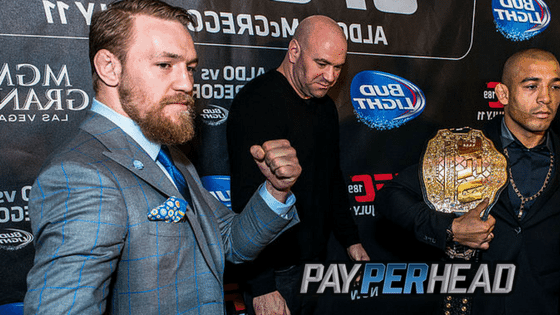 What Per Head Agents Should Know About Mayweather vs McGregor Odds
The fight is on!  Floyd Mayweather Jr., one of the greatest boxers in the history of the sport, battles Conor McGregor on August 26.
McGregor is one of the very best MMA fighters on the planet. He's one of the toughest guys I've ever seen.
The fight is the next huge sporting event that online bookie agents must know about. 
Agents should keep reading to understand what's already been happening with this event, and to get Mayweather vs McGregor odds 
Mayweather is a Heavy Favorite
Mayweather is still a heavy favorite. Check out the current Mayweather vs McGregor odds: 
Floyd Mayweather -550
Conor McGregor +375
Floyd's close to a 6 to 1 favorite to beat Conor. Those are crazy odds.
They imply that Mayweather should dominate the fight. But, those odds aren't nearly as crazy as what the opening odds were:
Floyd Mayweather -2250
Conor McGregor +950
The above odds made Conor McGregor the biggest underdog ever in a boxing match. There's nothing that comes close.
What happened? I expected that nobody would bet on Mayweather at -2250. I didn't expect that so many people would bet on Conor.
So much so, that Conor has been bet down to less than 4 to 1 odds.
McGregor Has Never Fought in a Boxing Match
Conor McGregor has never fought in a boxing match. He's one of the very best MMA fighters in the world. There's a huge difference between MMA and boxing.
Pay per head agents like you should know that the differences are so great, that the true odds of Conor beating Floyd Mayweather are much greater than +1500 to 1.
Boxing is specific. There are many things involved in boxing that require years of sparring to get right.
No person on the planet shows up after sparring for 6 months and beats a professional boxer that's 0-4, much less one of the greatest of all time.
Conor's used to fighting any style he wants. He's an expert at Brazilian Jiu-Jitsu. His striking talent is on par with MMA greats like Jon Jones and Ronda Rousey.
But, the small movements required in boxing to shade punches, or to land punches, aren't taught in MMA.
That's why Ronda lost in seconds to a trained boxer, Holly Holm, a couple of years ago.
Consider Rolling the Dice…
By this, I mean that online bookie agents should think about allowing players to wager as much as they want on Conor McGregor.
Set the max betting limit on Mayweather at $550, which are the current odds.
Most agents should see more than 80% of the action go to Conor McGregor. The reason why is because the odds on Mayweather, even at -550, are still low.
Not to mention that Mayweather is one of the most hated athletes in the history of sports.
Some boxing fans are going to have money on Conor just because they hate Mayweather. I think it's wise for you to let them bet as much as they want on Conor.
Don't get me wrong, there's an infinitesimal chance that Conor beats Floyd.
But, I don't think it's enough of a chance to worry about. It's close to the chances of the moon hitting the earth.
If some players wants to put $2,000 on Conor at +375, let that player do it. Mayweather vs McGregor is a dream set up for per head agents.
There's a strong, unbeatable, favorite that nobody is going to bet. Don't worry about evening the action out.
Wait for Floyd to knock Conor out, and run away with money bet on McGregor.
Having the right tools will help online bookies make the most cash from this huge event. PayPerHead.com prime package gives agents access to industry-leading tools that are made for bookies, by bookie.
Don't let this game pass you by – get PayPerHead's prime package now for half the price.  
Find out how you can double your profit from a premium sportsbook management software.
Then, upgrade your business and get a premium sportsbook management software.